Back to all posts
Posted on
Online Learning Registration Form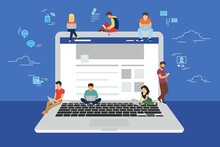 Akram-Jomaa is committed to supporting students and their families in receiving an excellent education from home. We recognize that is your right to have your child learn from home until the risks of COVID-19 have been mitigated. Online learning will allow for a high quality, personalized education while still maintaining a relationship with the teacher and fellow students. We want to be as supportive as possible to ensure both safety and peace of mind for our Akram-Jomaa families.
The expectation will be for our teachers to deliver the curriculum and provide content in the form of assignments, videos, readings and other appropriate resources for your child. The expectation for parents is that you will support your child's learning and keep them on track to meet the objectives within a reasonable time-frame, as directed by the teacher.
Unlike the emergency at-home learning period that began in March, online students will be responsible for all curricular outcomes and assessments.
Students will be required to have a laptop, desktop or chromebook and a reliable internet connection for the online learning cohort.
To register your child in online learning, please fill out the "Online Learning Registration Form"