Back to all posts
Posted on
Eid Holidays Changed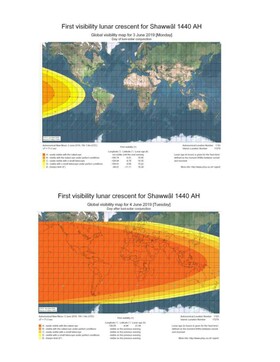 As-Salamu `Alaykum Dear Parents,
Please note that Akram-Jomaa will be adjusting the upcoming holiday for Eid al-Fitr.  All students from Kindergarten to Grade 12 will be given holidays from Tuesday June 4 - Thursday June 6th. There will be regularly scheduled classes on Monday June 3 and Friday June 7th.
Recent predictions for the sighting of the new moon indicate that there is a very strong possibility of Eid occurring on Wednesday June 5th. As such, we could never ask our students and staff to return to work immediately following one of the biggest celebrations in our religion.
For your convenience, on the left are two images that show the potential of sighting the new moon on Monday night and on Tuesday night.
We pray that you and your entire family have a blessed Eid and that Allah, Great and Glorious, accepts from you all of your good actions and allows us to bid farewell to the blessed month of Ramadan with all of our sins, both major and minor, completely forgiven!
Jazakum'Allahu Khair,
Ramy Elhamalawy
Calgary Islamic School
Principal