Back to all posts
Posted on
Congratulations to our Loran Scholar, Zaneb Ghfar!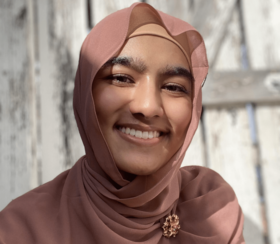 We are excited to share the following great news with you about one of our own grade 12 students at Akram-Jomaa, Zaneb Ghfar.
Every year, over 5000 students from around the country, apply to the Loran Scholar's Foundation to be selected as one of only 35 winners that demonstrate integrity, courage, compassion, grit, and a high level of personal autonomy. The Loran Scholarship Fund recognizes that academic performance is not the only indicator of future value to the community and they seek out and support young Canadians who demonstrate character, service and leadership potential.
Offered in full partnership with 25 Canadian universities, a Loran Award is valued at approximately $100,000 over four years of undergraduate study for each winner Masha'Allah!
This year, our very own Zaneb Ghfar was selected as one of the 35 Loran scholars. Here is a little info about her:
Zaneb is the treasurer of the student council and teaches children in her religious community. She is driven by a passion for understanding, and is dedicated to scientific research, having been distinguished for her two-year research project at the Calgary Youth Science Fair. The things she is most curious about are the creations of God and His beautiful universe, and seeks to feed this curiosity by looking starward. She is an active member of the Royal Astronomical Society of Canada, and she enjoys exploring creative self-expression through art and writing in her spare time.
We pray that Allah protects Zaneb and her family from any harm and grants her much more success as she continues to make her family, school and community very proud. Masha'Allah la quwwata illa billah!
Congratulations Zaneb!
Comments
Mashallah Tabarakallah. Congratulations to the staff of Calgary Islamic School AJ Campus. With Allah SWT's blessing, and her teachers' hard work she got it. Alhamdulillah.
MashAllah very very Good news. Congratulations dear. May Allah give you more and more success in this world and hereafter Ameen. Congratulations to Akram juma school and teachers, helpers and students too.