Back to all posts
Posted on
Letters of Hope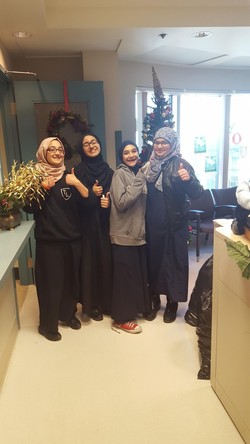 Inspired by a Letters of Hope campaign in the Lethbridge area, our leadership students came up with their own way to lift the spirits of those hospitalized in the city.
Through Letters of Hope, students gave the "letters" idea their own twist, by folding 1,000 origami cranes. The crane is a Japanese symbol of good fortune and longevity. By folding paper into the form of the bird, the students were following the example set by Sadako Sasaki, who survived the atomic bombing of Hiroshima. She was later diagnosed with cancer and began folding cranes while in hospital in hopes of completing 1,000, which, legend has it, would result in her being granted a wish. When she succumbed to illness before completing 1,000, her classmates took on the task.
The cranes made by our students were delivered to patients at the Peter Lougheed Hospital, as part of care packages distributed on Christmas Eve.
In addition to folding cranes representing a wish for wellness, students created chains of paper gingerbread men, decorated with pictures and messages. The paper chains were displayed at the west entrance to the hospital.
Ms. Elkestawi said that our student leaders were keen to find another way to give back to the community.
Comments
beautiful school indeed!
Although I went to public schools , but for CIS I feel like family , teachers are professional, all staff members are doing their best to help students reach their goal.

Thank you CIS
Teachers at all levels are excellent and sincerely concerned for students. Great educational and Islamic environment
Yes very nice
I would love my child to join the Islamic environment in cis to bring her up to understand isl
i used to go to public school but now im at cis it feels like a good place especially for learning islam
I used to go to OBK but now I go to this school and they actually treet me like I am growing up